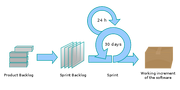 Sprint: A Sprint is defined by Ken Schwaber as a Timebox of thirty days during which a Team works to turn the Product Backlog it has selected into an increment of potentially shippable product functionality. Sprints are started by holding a Sprint Planning Meeting and ends with a Sprint Review Meeting and Sprint Retrospective.
Example of use:
·

"I can't wait to start work on the next Sprint!"
Sources:
·

Agile Project Management with Scrum by Ken Schwaber
Ad blocker interference detected!
Wikia is a free-to-use site that makes money from advertising. We have a modified experience for viewers using ad blockers

Wikia is not accessible if you've made further modifications. Remove the custom ad blocker rule(s) and the page will load as expected.